Autism Cares Act Signed into Law
Autism Cares Act Signed into Law
Much attention over the last ten years has been given to the research for causes and treatment of Autism Spectrum Disorder, also known as ASD. The Combating Autism Act became a law in 2006, was reauthorized in 2011, then again reauthorized and renamed to Autism CARES Act in 2014 (Autism Collaboration, Accountability, Research, Education and Support Act) which provided federal funding for research and monitoring the prevalence of autism and for training providers in detecting and diagnosing autism.  Even still, there is no one single test for autism, no definitive cause for autism in general, and no cure yet.  To be able to continue valuable research, education, social programs, and services to support the autism community, the law needed to be updated so certain parts of it would not expire by the end of September 2019.   With bi-partisan backing and passage through the U.S. Senate, President Trump signed the Autism CARES Act of 2019 into law on September 30, 2019. The 1.8 billion afforded by this law will allow the National Institutes of Health (NIH), the Centers for Disease Control and Prevention (CDC), and the Health Resources and Services Administration (HRSA) to continue their work on autism.
Autism is a developmental disability that creates social/communication barriers and behavioral changes for a child diagnosed with autism and provides many social and economic challenges for the child's family as the child grows into adulthood.   Being a spectrum disorder means that autism has many different forms and affects people in many different ways without a consistent degree of severity.   Three conditions that were formerly diagnosed separately are now all called Autism Spectrum Disorder.  These conditions are autistic disorder, pervasive developmental disorder not otherwise specified (PDD-NOS), and Asperger syndrome.  Research has found that many forms of ASD stem from genetics, as well as environmental and biologic factors, and has been proven not to be caused by childhood immunizations.
Because autism spectrum disorder has several serious co-morbid conditions, there is a higher rate of premature death for an autistic person compared to the general population.   As communication issues prevent some patients from being able to describe or even alert parents to symptoms of common conditions that accompany this disability, appropriate treatment for medical conditions could be delayed.  Epilepsy, gastrointestinal conditions such as constipation, sleep difficulties, marked and unexplained irritability or aggressiveness, eating and feeding challenges, obesity, anxiety, and depression are some of the health issues patients and families face and can be costly to treat, both emotionally and financially.
Economically, the cost of caring for an autistic child is estimated to be around $60,000 a year, and more than $26,000 for community support, employment support and possibly daycare if not able to be employed and stay home alone safely.  Once the child reaches adulthood, an autism patient is less likely to pursue higher education and job opportunities are few.  Per the "Autism Speaks-2017" special report, of young adults who are 25 years old at the time of a study, more than half never held a paying job. Once they have aged out of care provided by a pediatrician, fewer adult patients get the specialized help they need to manage their autism-associated health conditions, and of those adults who are able to work, the income of many remain at or below the poverty level.    The CDC considers autism spectrum disorder a public health concern and continues to monitor developmental disabilities with the desire to find out more about risk factors that make a person more likely to develop ASD.  With the help of continued federal funding the Autism Cares Act of 2019 provides, the CDC and other agencies will be able to continue to pursue answers to causes of, new treatments and hopefully a cure for autism.
If you have questions or would like to discuss you or a loved one's planning needs, please don't hesitate to reach out by calling us at 1.800.660.7564 or by emailing us at info@covertlaw.com.
Sources:
https://whnt.com/2019/10/01/president-trump-signs-autism-cares-act-sets-stage-for-research-into-the-disorder/
https://www.autismspeaks.org/autism-cares-act
Autism in America
Autism in America
World Autism Awareness Day falls on April 2nd each year and is part of the larger World Autism Month observance. The observance includes hundreds of thousands of landmarks, homes, and buildings worldwide being swathed in light blue to recognize people living with autism. Many educational activities and events will take place to foster understanding and promote acceptance of autism spectrum disorder, or ASD, and of course, fundraising will intensify to endow growing research challenges to meet the needs of this highly individualized disorder.
The prevalence of autism is on the rise in the US. Because the condition first manifests itself before the age of 3, the majority of people receiving new diagnoses are under the age of 6. Autism spectrum disorder (ASD) refers to a broad range of behavioral conditions that include challenges with social skills, speech, and nonverbal communication as well as repetitive behaviors. The Centers for Disease Control and Prevention (CDC) now estimate that autism affects 1 in 59 children in the United States. That number has been steadily increasing in the past decade. 
Autism is a very plural condition as there are many subtypes, primarily influenced by the environmental and genetic factors and has varying degrees of severity. Individuals coping with autism have distinct sets of strengths and challenges. That is why people are characterized as being on an autism spectrum because the individual scale of learning, thinking and problem-solving skills can range from highly skilled to severely challenged. Some who are diagnosed with autism spectrum disorder (ASD) may be able to live entirely independently while others may require some to significant support in their daily lives. 
Federal and state programs help assist families with children and young adults who have ASD. The Individuals with Disabilities Education Act (IDEA) federal law outlines rights and regulations for US students who require special education. The US Department of Education website outlines the basics of IDEA in simple terms. Are these services available until the young adult reaches the age of 22 and then what? There is a vast continuum of diagnosed and undiagnosed adults who are struggling to make sense of life while living with ASD.
Autism Speaks is an organization that calls on legislators and public health agencies like the National Institute of Health to promote research and advancements in understanding the increased prevalence of and complex medical needs that often accompany a person with autism. There has recently been a call to double the budget to advance research and create policies that better provide individual support and services as autistic children transition to adulthood and need employment and residential options. 
For people afflicted, autism is a lifelong condition and there is an unacceptable gap in our awareness of their needs particularly as children age out of federal school programs at 22 and are left to struggle with areas of basic life skills such as employment, housing, and social inclusion. Children with autism eventually become adults with autism. While some autistic adults become very successful, even famous for their success in arts and sciences (Albert Einstein, Dan Aykroyd, and others) others languish in their inability to navigate a complex world.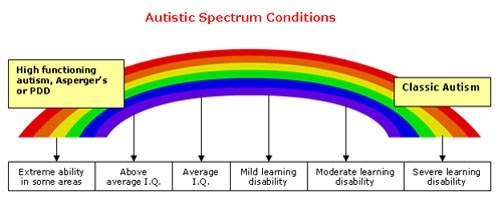 www.quora.com/Is-there-a-good-visual-map-or-chart-showing-the-ASD-spectrum
Wherever an adult finds themselves in the autism spectrum, there are specific basic needs which mirror those adults without the challenge of ASD, and they are friendship, support, and opportunity. The mechanisms and interpretation of communication may differ but the human need is the same. Reliance on tax-funded programs is not always the best way to approach the needs to sustain them as funding and programs come and go. The real solution to meet the needs of adults with autism is essentially the same as the needs of children with autism. People in their families and communities must help their autistic loved one to make sense of and live in a complex world. The collective belief that they have abilities and strengths are can help reduce their anxieties. Accommodating support in ASD sufferer's efforts to meet challenges and their own special needs can go a long way in assisting them to live more independent and successful lives.  
Are federal and state programs available? Are there community outreach programs that help young adults transition to independent living past the age of 22? Adults with autism differ from one another just as it is for children on the spectrum. 
If you have questions or would like to discuss your particular situation, please don't hesitate to reach out to us at 1.800.660.7564 or by emailing us at info@covertlaw.com. 
3 Tips for Traveling with Disabilities
3 Tips for Traveling with Disabilities
Traveling with disabilities or accessible traveling can seem, for some, like an overwhelming task with so many extra considerations. However, it doesn't have to be if the right research, planning, and preparations are done ahead of time. There are even travel agencies that specialize in disabled travel. The most important thing is to be prepared.
1. Consult with a Physician
Whenever a disabled person is planning to travel, one of the first steps to take is to discuss the travel plans with the person's physician. Be sure to give the doctor an accurate picture of what the trip will entail. In many cases, the physician can help plan for medical needs while traveling. The doctor can prescribe certain measures to help make travel easier and can provide you with a medical statement for emergency situations. It is also helpful to have your doctor's name and phone number available while traveling, as well as to identify medical care at the travel destination. Be sure to carry extra medication in case of unforeseen delays and have all medication in carry-on bags to prevent loss. Be prepared because the doctor may also advise against certain types of travel depending on the disabled person and their disability.
2. Know Your Rights
When planning for accessible travel, it is important to know the rights of people with disabilities. The Transportation Security Administration (TSA) has certain procedures for travelers with disabilities and medical conditions. It is important, before going through airport security, to understand these procedures. The Air Carrier Access Act and the Americans with Disabilities Act (ADA) also provide information regarding the laws for those traveling with disabilities. Unfortunately, many employees of airlines, cruises, theme parks, and other travel destinations will not know the law regarding those with disabilities, so it is always best to obtain the information ahead of time.
3. Plan Ahead
Planning ahead is the most important tip and encompasses all the other tips. One easy way to plan ahead is to hire a travel agency that specializes in accessible travel. These agencies can plan for the specific disabilities and needs of the traveler with disabilities. If you wish to plan your own travel, then begin to plan early. First, research and create an itinerary for your trip. Websites can be helpful in obtaining information about accessibility and services offered. Even with websites, calls should be made to schedule the necessary accommodations that are needed to make each stop on the itinerary enjoyable. Remember to be detailed when describing the disability, so that everyone understands the limitations accurately.
Planning ahead for flights can also be very helpful for people with disabilities. If possible, avoid connecting flights and fly direct to the destination. It is also recommended to check in with the flight attendant before landing to make an exit plan. Once you've disembarked, if a wheelchair is necessary, make sure you have set up accessible ground transportation to and from the airport. All of this can be done ahead of time to help ensure more relaxing travel for everyone involved in the adventure.
The experience of travel can be smooth and enjoyable with the right information and planning. Of course, even the best plans can experience turbulence along the way, but planning and documenting can help to lessen any bumps along the way. Just remember, after calling and booking for the special needs, call again and touch base 24-48 hours in advance of traveling to ensure all appropriate accommodations are in order.
If you have any questions about something you have read or would like additional information, please feel free to contact us.
Visit our website at:  www.covertlaw.com
Auto Reply
Thank you for your recent inquiry. Someone will get back to you within 24 hours.
Signature (Supports HTML)
Kind Regards
Covert | Law
Your Plan. Your Family. Their Future.
- - We Take Care of Families: Today - Tomorrow - Forever - -
NEIL R. COVERT, Attorney at Law
Clearwater - Sarasota - Fort Myers - Naples
© 2019 Neil R. Covert, P.A. - - All Rights Reserved.
____________________________________________